On July 13, 2022 the Sun City Center Community Association's (SCC CA) Board of Directors approved a contract to reconstruct the entire pickleball court area in the south campus. The contract for $263,785 was awarded to Stewart Tennis Courts & Fencing, Inc. located in Palmetto, Florida. When the project is completed–latest estimate is the end of May 2023–there will be a total of eight pickleball courts along with some shade structures and seating.
The project was originally scheduled to begin in September 2022 with a projected timeline of eight to twelve weeks. For various reasons, the project did not get under way until December 1, 2022.  Below is the "mock up" diagram that the SCC CA posted on their website for the community residents.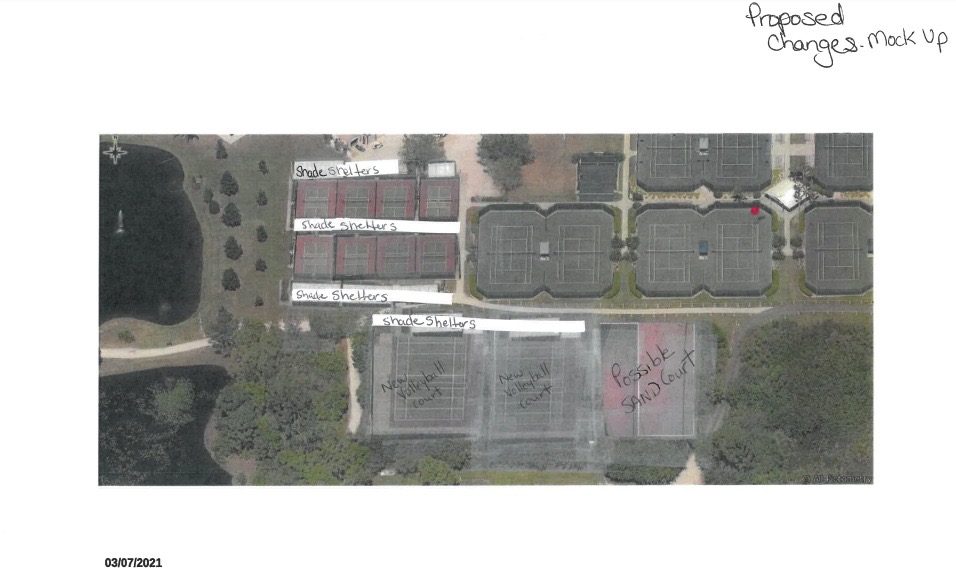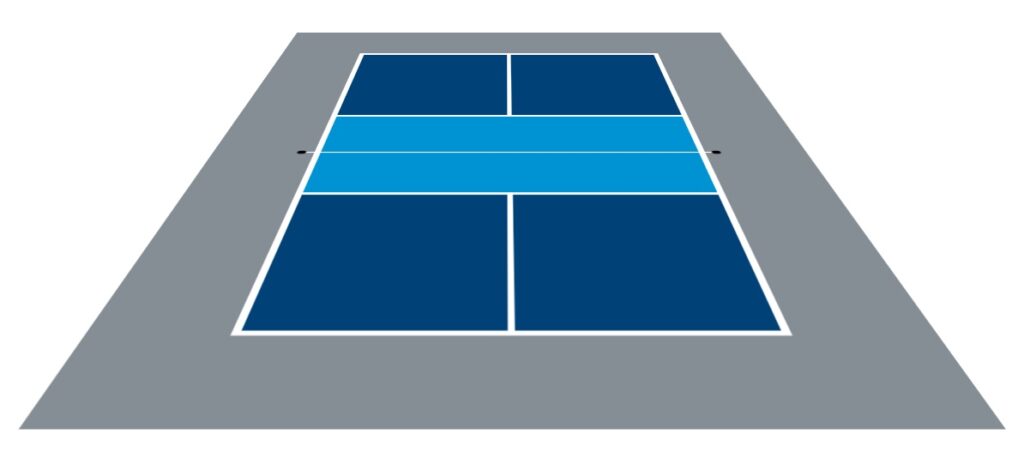 This is the color scheme for the new pickleball courts.
Follow the progress of the construction of the new pickleball facility through weekly photos
Photos taken on May 19, 2023: Changes since May 12, 2023
All 8 courts painted
Lines on courts 2, 4, 6 and 8 completed
Lines on courts 1, 3, 5 and 7 not yet done
Fencing between courts still to be installed
Photos taken on May 12, 2023: Changes since May 5, 2023
All sidewalks completed
Center section concrete completed
Most of the light poles installed
Patching and repairs on court 1
Levelling work done on all courts
New picnic tables and benches for center section
Photos taken on May 5, 2023: Changes since Apr 28, 2023
Part of center area concrete was poured
The concrete was poured for some sidewalks around perimeter of courts
4-foot fence posts between the courts were installed
Photos taken on Apr 28, 2023: Changes since Apr 15, 2023
Continue with fencing work
Photos taken on Apr 15, 2023: Changes since Apr 8, 2023
Installation of fence posts and top rails
Photos taken on Apr 8, 2023: Changes since Mar 7, 2023
Net post holes dug on all 7 new courts
16 new light pole holes dug at the ends (baselines) of all 8 courts
There will be no lights at the sides of the courts
Photos taken on Mar 13, 2023: Changes since Mar 7, 2023
All of the asphalt paving was completed on Mar 7, 2023
The asphalt has to cure for 30 days before the contractor can paint the courts
Photos taken on Mar 7, 2023: Changes since Mar 4, 2023
Asphalt paving was done on courts 2 to 8
Photos taken on Mar 4, 2023: Changes since Feb 26, 2023
Grading work done this week
Water sprinklers installed
Getting ready to lay asphalt
Photos taken on Feb 26, 2023: Changes since Feb 18, 2023
Photos taken on Feb 18, 2023: Changes since Feb 10, 2023
Grading work done this week
Stakes moved from 10 feet to 25 feet between the two sets of courts
Photos taken on Feb 10, 2023: Changes since Feb 4, 2023
Photos taken on Feb 4, 2023: Changes since Jan 28, 2023
More crushed stone delivered
Grading of crushed stone
Photos taken on Jan 28, 2023: Changes since Jan 21, 2023
Photos taken on Jan 21, 2023: Changes since Jan 14, 2023
Photos taken on Jan 14, 2023: Changes since Jan 12, 2023
Piles of debris removed
Grading of entire court area
Photos taken on Jan 12, 2023: Changes since Jan 10, 2023
Lights removed from court 1
Shade structure removed between courts 4 and 5
Bushes beside court 4 were removed
Photos taken on Jan 10, 2023: Changes since Jan 3, 2023
Photos taken on Jan 3, 2023: Changes since Dec 27, 2022
The surface on the courts 2, 3 and 4 has been removed
Photos taken on Dec 27, 2022: Changes since Dec 17, 2022
The court surface on the volleyball courts and court 5 has been removed
Courts 1-4 appear to be unchanged
Photos taken on Dec 17, 2022: Changes since Dec 6, 2022
Locks were added to all the pickleball gates
Yellow tape was added around the shade structure behind courts 2 and 3
All the fencing around the two volleyball courts was taken down
Photos taken on Dec 6, 2022: Changes since Dec 1, 2022
The main gate into court 4 was removed
Photos taken on Dec 1, 2022: Day 1 of the new pickleball courts construction project
The pickleball nets and posts were removed from all five courts
All benches were removed and stacked behind the south hall maintenance building