The sport of pickleball came to life on the South Campus of the Sun City Center Community Association in December of 2001. Don Van Gelder of the Sun City Center Community Association (SCC CA) Joint Programs Office and Walter Cawein, past-president of the SCC CA, visited pickleball courts at The Villages near Ocala Florida, when considering new facilities for Sun City Center. With the enthusiastic support of our local residents, construction of two pickleball courts and a combination pickleball-volleyball court began in June 2001. The first informational meeting of the Sun City Center Pickleball Club was held in August  2001, and organizational meetings followed. The first Officers were elected in November 2001, with Ron Hammaker serving as the first SCC Pickleball Club president. The courts were completed in December 2001, and the first players hit the courts immediately.
There have been sixteen presidents since the Sun City Center Pickleball Club was founded:
Ron Hammaker (Nov 2001 – Dec 2002)
Garry Macferran (2003)
Neal Nightingale (2004)
 Elizabeth Meadows (2005 – 2006)
Melony Grazano (2007 – 2008)
Michael Perkins (2009 -2010)
Theo Council (2011)
Gary Nicolay (2012)
Jerry Benningfield (2013)
Gary Nicolay (2014)
Renee Bray (2015 – 2017)
Maurice (Frenchy) Levesque (2017 – 2019)
Mary Taylor (2019)
Tom Hoffman (2020-2021)
Jeff Williams (2022)
Dennis Rosett (2023)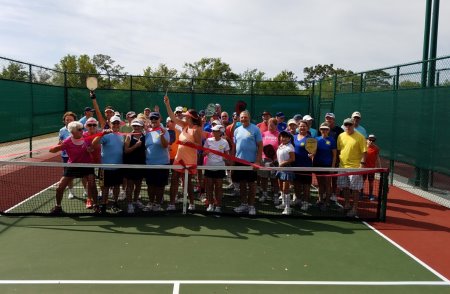 Over the years, the SCC Community Association has supported improvements to the Pickleball facility, in addition to enhancements made possible via SCC Pickleball Club fundraising events.
On September 8, 2007, two additional pickleball courts were built as the result of Club funds and a $15,000.00 grant from the Community Foundation of Greater Sun City Center/Durward & Janet Seville Fund.
During 2010, a new misting system was installed in the player waiting area. Lighting for three courts was also added enabling play after dark.
In 2016, the Community Association approved one more additional court to support the growing club membership and popularity of the sport within the SCC community. The club donated funds for upgraded LED lighting on all five courts.
In July 2022, the SCC CA approved a capital funding project to create a new pickleball facility which will have eight dedicated pickleball courts.
Construction on this project began in December 2022 and the courts were opened for play on May 24, 2023. To follow the progress of this project, click here.
With the support of the SCC CA, the pickleball courts are kept in excellent condition for the club's enthusiastic membership.
The Sun City Center Pickleball Club becomes more and more popular with each passing year. Participants benefit from great exercise while having a lot of fun. The residents of Sun City Center, Florida are fortunate to have such an excellent pickleball facility for their enjoyment!