Membership Eligibility
Pickleball Club membership is open to all current SCC residents who are Community Association (CA) members in good standing upon payment of all Pickleball Club member dues. Club dues are $27.00 annually, due upon joining the club. Membership expires December 31st of each year. Members who renew an existing membership receive a discounted member's dues of $21.00 if paid on or before Dec. 31. A listing of paid members will be posted on the PBC bulletin board.
Anyone joining after November 1st will pay $27 which will cover membership through December 31 of the next year.
Membership Application
To join the club, simply click on this link: Membership Application Form to get the membership form.
Present your application and your CA badge to any board member or on Tuesdays at 1:00 PM during the Pickleball Club Lessons.
The board member will sign your application or you may scan your CA Badge and include it with the application.
Then you must mail the application with the club fee to the address on the application form.
Checks are accepted, as long as they are US checks and not from a foreign country, including Canada.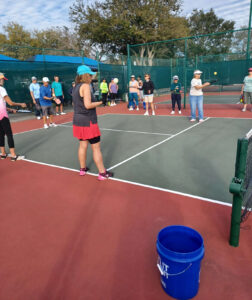 Introduction to Pickleball Classes
The club offers a free "Introduction to Pickleball" course to CA residents. The course is for six weeks every Tuesday and Friday from 1:00 to 3:00 PM. A new class begins every two weeks starting in mid-October and ending in mid-May. Volunteer instructors in our club will teach you the rules of the game and conduct exercises to help you learn and develop skills. During the classes, paddles and balls are provided. Students need to provide their SCC CA Badge (each session) to participate and wear loose clothing and hard court shoes.
Enrollment for classes is online through Signup Genius. Class sizes are limited. Enroll early. Effective in 2023, we are asking for a $5 per person sign-up fee for students who are not yet members of the pickleball club. Please bring your check made out to SCCPBC. If you choose to join the SCC Pickleball Club, this $5 will be used towards the $27 yearly membership fee. Enrollment will start at the end of August.
Click here to enroll in classes.
What to Expect
Shortly after submitting your application you will receive an email from the club, welcoming you and providing you with some useful information. The club supplies the balls for use at the courts for its members.
As a member, you will receive periodic emails from the club, with club announcements, events and current information. We hold club brunches, picnics and holiday parties regularly. We are always looking for volunteers to help with these events; let any board member know if you are willing to help. It's a great way to get to know other club members.
As a member, you are welcome to join play during club hours Monday through Saturday from 7:00 to 11:00 AM and again from 6:00 to 10:00 PM. Games are always played with four people during open play. During club hours, we use a rotational play system. As players complete a game, they return to the bench. The next four players that have been waiting the longest are the next four in line to play when a court opens up.